PRIMARY SCHOOL AND KINDERGARTEN
The second school The Baby Eva Teddy Bear Foundation took under their wings was Ban Klong Prasong Primary School and Kindergarten, located on a small island, outside of Krabi town.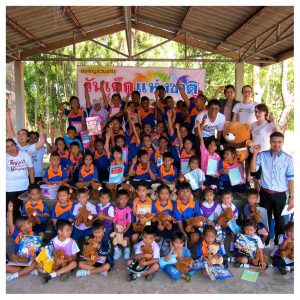 We where told about their difficult financial situation through our street team and local field partner. So after our first visit and sitting down with the teachers and local community, we decided to start our collaboration.
First on the agenda was building a quality curriculum for the students, together with the teachers, and supplying all of them with shiny new schoolbooks to call their own.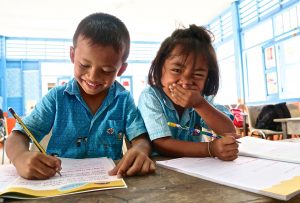 We then mapped out the necessary renovations and made a long term plan, together with our field partner Vouge Resort & Spa and the local community, to renovate the school and build much needed sanitary solutions. Vouge Resort & Spa has been just amazing and offered us all the staff we needed from translators, drivers and negotiators to engineering staff to do the school renovations.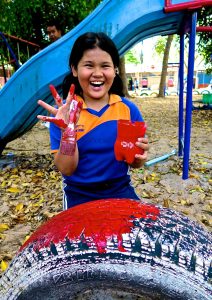 We also bought new sport equipment every year for the students as a first step in our future goal to renovate their playground, and at the same time keep them healthy and happy 🙂
We have continued to donate new books every year, for the students to keep.  We have also continued on our renovation plan. In the beginning 2016 the island school finally got safe drinking water thanks to our donor the generous Ferris Family. We arranged weekly delivery through local water delivery and recycling services, so now all our students access to safe water during school hours.
This will give all our student at Ban Klong Prasong Primary School and Kindergarten unlimited access to safe drinking water. 🙂 🙂 🙂
In 2019 we built and renovate playgrounds and organic vegetables gardens at our yearly Water&Health –days. And our amazing field partner Centara Anda Dhevi Resort & Spa Krabi started a pilot project at Ban Klong Prasong Primary School and Kindergarten where we built and renovated the schools garden, and installed a water sprinkle system for the the vegetable garden.
Baby Eva Teddy Bear Foundation believes that a safe playground gives joy to the students and also keeps the kids active. A vegetable garden gives the students important life skills and promotes a healthy lifestyle.
We will also continue to provide sports equipment, art supplies and biodegradable toothbrushes to our schools thanks to our amazing team, field partners and sponsors!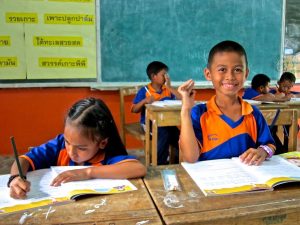 WE NEED YOUR HELP
Our future goal for Ban Klong Prasong Primary School and Kindergaten is to be able to continue our necessary renovations and stop the termites from eating up the whole school.
We are looking for a sponsor to help us upgrade the students desks and chairs since they are literally falling apart.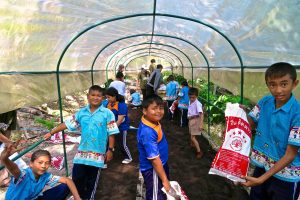 And we hope to get a sponsor to we can launch our "Gardening program", since we believe every school should have an organic garden that is maintained by a gardening class, while the food grown is used to feed the students.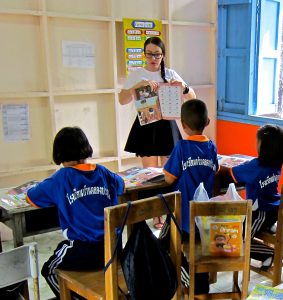 Last but not least Ban Klong Prasong is the only one of our schools that has a English teacher that teaches all the English classes for all six levels.
We belive a more effective teacher means that our students are receiving an even better education, but to make this a reality we need sponsors to cover the amazing "English Teacher Courses" SE-ED Books offers, but only in Bangkok.
If you want to help make the world a better place for the students at Ban Klong Prasong Primary School and Kindergarden – CLICK HERE to see how YOU can help!